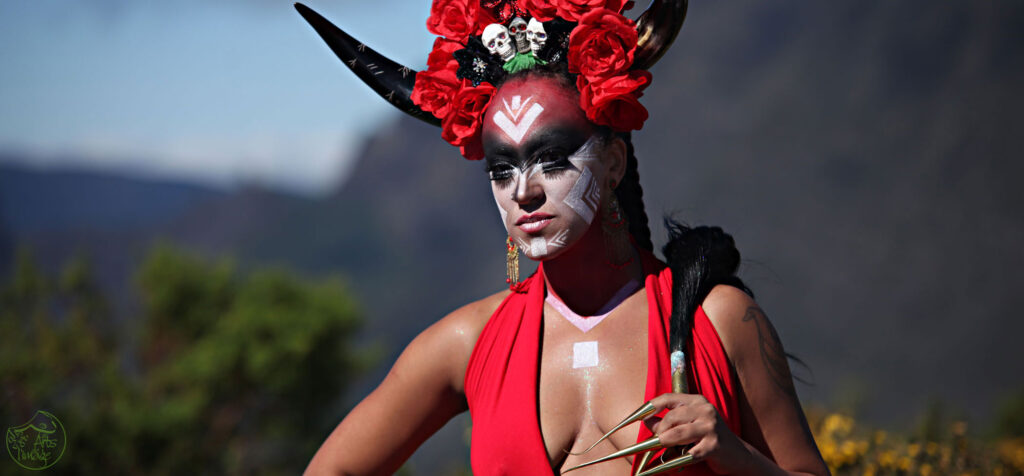 Bio
SarahYsha is a Brazilian singer, songwriter, choreographer and visual artist living in Reunion Island since 2017. Her work links her studies in Afro-Brazilian music, dance and performance with Asian techniques of research and human development. In her performances, she seeks to establish an interdisciplinary language between the body, the visual arts and ancestrality in the contemporary body.
Today, her creative process involves music and performance as a tool for dialogue on issues of femininity, Afro-diasporic ancestry and the true nature of the human being. Creating a dynamic exchange between artistic languages, SarahYsha seeks, in her plural universe, to develop her experience with the public in an authentic, profound, and poetic way.
Axé
Projects
Parcours
"Ìyá Amapô" (2017-2018 Brazil / La Réunion) – Conception, choreography, artistic and musical direction, composition and singing.
Quilombo (2019 / La Réunion) – Conception, choreography and direction of the show created with the capoeira associations Berimbau Negro, from the capoeira band Arte Negra Reunion.
Sinto7-Etnias (2019 / Brazil) – Dancer and performer in the Brazilian Afro-contemporary dance show Sinto7-etnias, created and directed by the Bahian choreographer Vera Passos.
International collaborations, Japan & Thailand
"Kochi Fuku Naka Chi Isana Hosi" (Japan 2016) – Performer in a theater performance directed by Japanese writer and theater director Iida Shigemi.
"1er Festival De Songkran Art & Music Doisaket" (Thailand 2016) – artistic production of the festival – also presentation of the experimental show "Caminho das Águas".
Other projects
Samba Estrela (2019-2020 la Réunion) – Singer and artistic director in the Brazilian Racine Samba Group led by musician Richard Layan.
Aquarella Projet Bossa Nova (2017-2020 la Réunion) – Singer in the group of bossanova jazz, led by the Moroccan musician Adib Garti.  
Duo Bossa-Nova (Guadeloupe / Caribbean 2015) : Singer in the duo with French guitarist Marc Chillet at the "Lakasa Jazz Festival", opening for Kenny Garrett. (Guadeloupe / Caribbean 2015)
Sarahvá Samba Jazz » (2015 – La Réunion) – Singing, directing, artistic and choreography.
Dance
"Le 7ème Sens" (France 2017/2019) –  Singer and Performer in the creation Le 7éme Sens by the Venezuelan choreographer Saby Morales
"Ballet De Danse Africaine" of the Association Aduna of the Indian Ocean (France 2016/2020), as a singer and dancer. (France 2016/2018)